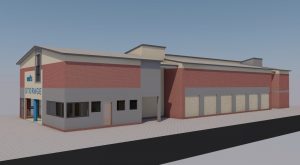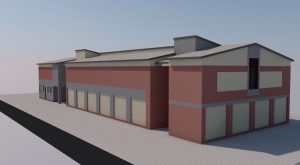 Concept perspectives of the storage facility.
Radius Park
Storage of various sizes are becoming a problem due to inadequate space within our homes and offices.
Our future development of a double story storage park with 1076 units can be the answer to your problem.
Each unit will have a screed floor with a roll up garage door.
Some of the extra services that will be provided is a car wash, stationary supplier and loading vehicles.
Phase one will consist of approximately 250 units. Details of building progress will be given in due cause.
NG Church Ermelo
This development will exist of around 70 self catering units. Each unit will consist of 2 bedrooms, 1 bathroom and 1 Hollywood carport.